The Educare Five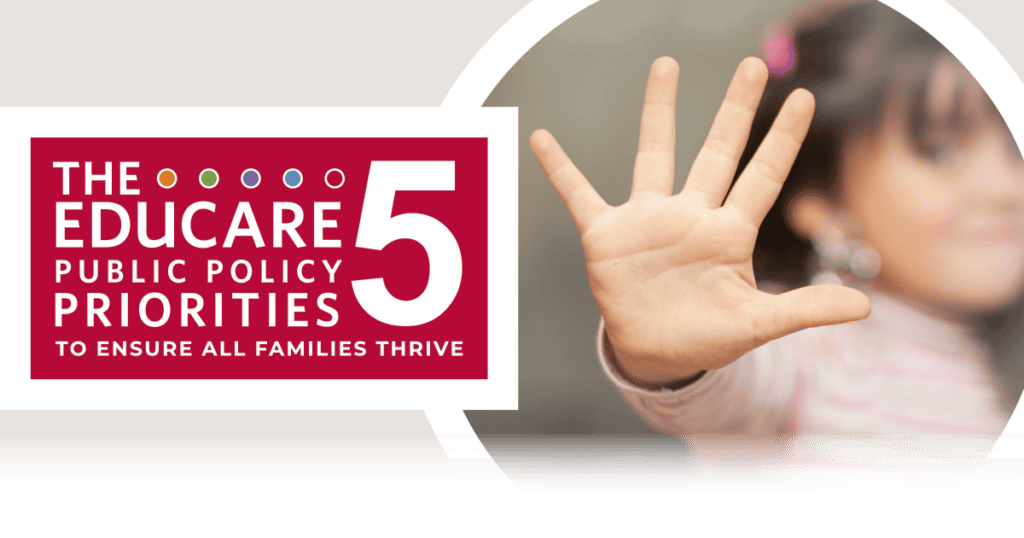 A public policy agenda to ensure all children, families and communities can thrive.
At Educare, we believe that every child deserves the opportunity to be successful, both in school and beyond.
Drawing on our experiences as parents and early childhood professionals, researchers and school leaders, advocates and community partners, the Educare Network's policy agenda, The Educare Five, recommends five public policy priorities to ensure all children, families and communities can thrive.
The Educare Five builds on our previous policy framework and is the result of collaborative contributions from Network members and communities in 15 states, the District of Columbia and on tribal land.
Our Public Policy Priorites
Universal Child Care & Early Learning
Ensure families have access to high-quality, culturally-responsive, equitable early learning and care at no or low cost, in the setting they most prefer, during the time they need care.
Robustly fund early childhood programs so all families can afford care that meets their needs.
Ensure greater flexibility in learning program eligibility.
Expand access to Early Head Start-Child Care Partnership (EHS-CCPs).
Stable & Supported Families
Ensure young children and their families have adequate finances and resources to access the housing, care, services and supports needed to thrive.
Expand investments, such as child tax credits, to foster financial security.
Extend early childhood and basic supports for the whole family.
Thriving Early Childhood Workforce
Ensure early childhood teachers and staff are skilled, well-compensated and supported while promoting young children's learning, health and development.
Promote investments to ensure higher, more equitable pay and benefits.
Strengthen equitable funding and supports for professional learning and educational opportunities.
Expand supports for staff well-being.
Healthy & Supported Children
Ensure young children have consistent access to the physical and mental health supports and services they need to thrive.
Support infants, toddlers and children with developmental delays or disabilities and their families.
Strengthen children's mental health and social emotional development.
Strong Early Childhood Systems in Every Community
Ensure families experience continuity of care and responsive services as a result of aligned systems and policies.
Align eligibility across early childhood programs and services.
Coordinate and collaborate effectively across system areas.
Embed equity indicators within early childhood accountability and monitoring systems.
Read the full public policy agenda.