Learning, Leading, Transforming: Innovating for a Brighter Future
With the return to an in-person event, we are thrilled to be celebrating the 20th anniversary of the Educare Learning Network with live peer connection and collaboration in New Orleans!
The Educare Learning Network Meeting provides a forum in which Network members share, problem-solve and receive technical assistance and support regarding issues of program and policy development, implementation and continuous improvement of the Educare model. The Network Meeting also provides an opportunity to reflect on the successes and challenges of our work. As a platform for policy and systems change, the Network Meeting offers an opportunity to define, discuss and address critical issues facing the early childhood field and identify partnerships that best leverage state and local investments for children in disinvested communities.
Registration Deadline April 3rd, 2023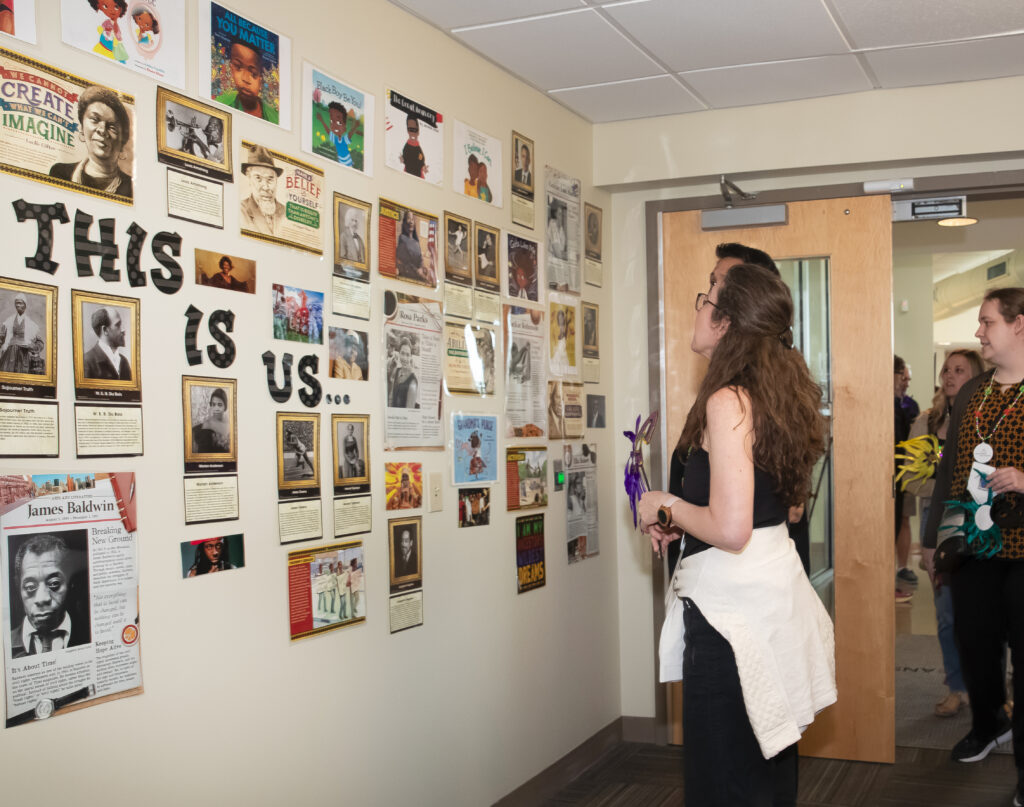 What is the Network Meeting?
Our annual Network Meeting is a collaborative learning event that brings together representatives from each Educare school, parents/caregivers, researchers, public- and private-sector partners and other key contributors in the early childhood field. Each meeting includes:
A plenary session which features research, program and policy experts from the early childhood and related fields as our keynote speaker
Concurrent sessions (including data dialogues) led by Network members and partners that focus on relevant issues or core features of the Educare model
Sessions for work groups and committees to convene
Historically, in-person Network Meetings are hosted yearly with the meeting location rotating between Educare schools
Audience
Network Meeting attendees can include boards of directors, executive directors, school directors, family support staff & supervisors, funders & philanthropists, Local Evaluation Partners (LEPs) and National Evaluation partners (NEPs), mentor teachers, coaches, curriculum & instruction managers, education coordinators, parents/caregivers, program administrators, teaching staff, Educare staff and invited guests.
General Information
**The call for proposals is now closed. Status notifications will be sent to submitting groups mid-February.**
The Educare Network aims to provide the highest-quality learning experiences and content at the annual Network Meeting. Our call for proposals process offers an opportunity for Network members to share their most impactful and innovative work, creating a collective and engaging experience for all attendees.
At the Educare Network, we define innovation as intentional, solution-focused creative problem-solving that fulfills an untapped need or addresses a challenge or question (whether new or ongoing). For additional context and examples of innovation, please see EducareShare.
Applicants should consider all constituent groups as session attendees when anticipating their audience as all sessions will be open to the entire meeting audience unless otherwise specified. (More information about Network Meeting audiences can be found on the Introduction page.) Please review the following information carefully before starting your proposal.
Speaker Information
The Network will cover the cost of airfare and hotel (3 nights) for two Educare school staff, local evaluation partners or parents/caregivers per session. Speakers that do not fit this category are not eligible for travel reimbursement.
Prior to submitting a proposal, obtain permission from your supervisor for travel and attendance to the meeting should your proposal be accepted.
Teams are encouraged to limit the number of total speakers to four. To reduce travel costs for Educare schools, please consider Network members who are already attending the meeting as potential speakers to sessions.
Speakers must commit to presenting live during the scheduled meeting dates of May 2-4, 2023. Exact presentation time will be confirmed after proposals are accepted. There are no virtual presenting options; all speakers must be in person.
All speakers must participate in a planning meeting with the meeting organizing team to review logistics, content and field questions.
Important Dates
Open Call: November 14, 2022
Deadline to submit proposal: January 20, 2023 
Decisions made by: Early February 

Notifications will be sent to all submitting groups
Submitting Your Proposal
The submission process utilizes an abstract management website powered by Cvent. The submitting author will create a username and password for the website, upload speaker bios/headshots and answer the proposal questions for the speaking team. The website allows you to save your progress and return to the website to complete/edit your proposal up until the deadline. You will receive a confirmation email after submitting your proposal.
Bios & Headshots: We requested that all speakers provide bios and headshots at the time of submission to streamline the process. Information provided during the proposal submission will be used for the agenda and mobile app content for the session.
To view the questions and information requested during the submission process, please click here (for reference only).
Theme & Areas of Focus
Theme: Learning, Leading, Transforming: Innovating for a Brighter Future
Areas of focus for this year's Network Meeting include, but are not limited to:
Trauma-informed Care & Healing-centered Engagement for Educare Families, Staff & Communities (i.e., mental health, social emotional well-being, impact of staff well-being on children & families, impact of child & family well-being on staff, etc.)
Responsive Classroom Practices (i.e., developmentally appropriate practices, anti-bias/anti-racist education, effective & equitable teaching and learning strategies, understanding and responding to children's behavior, etc.)
Rebuilding Our Workforce & Reimagining Early Childhood Education (i.e., recruitment, retention, orientation & onboarding, morale, performance management, alternate pathways to education & credentials, culture & climate, engaging staff at the Network level, change management, etc.)
Lifting Family Voices (i.e., engaging families as partners and leaders, family and parent/caregiver activism, anti-bias/anti-racist approaches to family engagement, etc.)
Early Childhood Advocacy & Activism (i.e., amplifying the work of Educare schools and the Network, effective and impactful policy work, etc.)
Selection & Criteria Requirements
The Network Meeting Steering Committee, members of the Educare Practice Advisory Committee Work Group and ELN backbone staff will collaborate to review and score proposals and will use the following criteria as the framework for selecting proposals that:
Provide relevant and innovative content. Preference is given to presentations that align with the meeting theme or topic areas.
Focus on interdisciplinary, innovative and/or field-advancing practice and creative/unique collaborations, problem-solving and partnerships.
Align with one or more of the Educare Learning Network member requirements.
Engage attendees in the learning and discovery process by actively facilitating attendee engagement during the live meeting. Presenters are expected to provide perspective and insight on critical issues facing the field through dialogue, storytelling, case studies, lessons learned, etc. Refer to the session formats below for more details.
Promote diversity, equity, inclusion and belonging (DEIB) within the context of the presentation and broader early childhood education field. View the DEIB collection on EducareShare for tools and reference.
Provide multiple strategies that expand thinking and can be applied to practice.
Include representation of parent/caregiver voice and in speaking roles when possible.
To create space for all voices to be shared at the Network Meeting, we will limit the number of proposals approved per school/organization.
Learn Shop Format 
Length: 60 min
Explore topics of common interest using innovative, thought-provoking content blended with audience participation. Presenters act as content leaders, presenting short content segments and then leading engaging activities, group discussion and participant reflection on how to apply knowledge to practice.
Commitment to Using Inclusive Language
We encourage speakers to consider the narratives and modes of thinking that they would like to amplify about the individuals, families and communities with whom they partner. We encourage presenters to view each component of their presentation as an opportunity to demonstrate respect for individuals, families and communities to help eliminate implicit biases related to gender identity, sexual orientation, race, disability, mental health, age or religion.
We recognize that language is evolving and DEIB commitments are a lifelong journey. We invite discussion, reflection and feedback in preparation for, during and after the Network Meeting.
Resources for repositioning language to center equity & intersectionality: